Original Fine Art
Inspired by Nature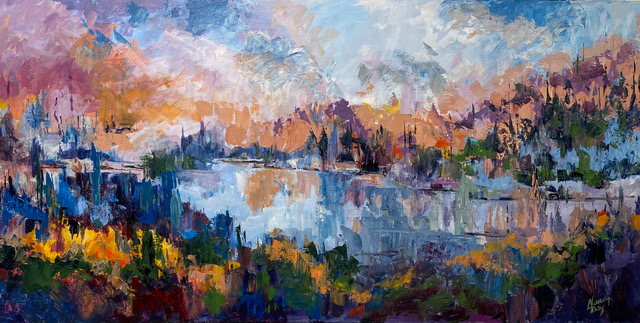 After my education in the Bachelor of Fine Arts program at the University of Alberta, I began what has become a successful decades-long career as a professional artist. I continue to work full time in my West Coast studio as a painter, creating original art. I work primarily with acrylic paints on canvas; however, at times, I may use oil paints or pastels to convey the artistic message.
When living in Alberta my imagery was inspired by majestic scenes from the vast prairies to mountain pinnacles. Since moving to Vancouver Island on the West Coast more than twenty years ago, I have been influenced by a different landscape – the lush gardens, fascinating forests, meadows, and moody water scenes of my island home. My daily walks in these surroundings continue to inspire and confirm my lifelong love of nature, and I delight in painting these images as I continue my creative quest.
I invite you to take a visual stroll through my website, and enjoy the many scenes that appear in my various galleries. You'll see images that are carefully painted using vibrant colours, gestural lines and intriguing textures – these features and more come together to create my fine art paintings of impressionistic landscapes, colourful gardens, and bursting florals, as well as lively and inventive abstracts.
To view and arrange purchase of Nancy Day's original artwork, take a walk through her online fine art galleries to find a painting that brings you joy.